Buffalo Fish Sandwich
Cooking time: 22
Serves: 5
When you're tired of burgers, try this great alternative! These easy buffalo fish sandwiches are perfect for a summer get-together. Combining fresh lettuce and tomato with our buffalo fish sauce, we've created a tangy, spicy sandwich everyone will love. Feel free to add mayo, cheese or any of your other favorite sandwich toppings. If you're feeling creative, try adding a side of creamy coleslaw or home baked fries. Our buffalo fish is a healthy meat alternative that will leave you full and satisfied.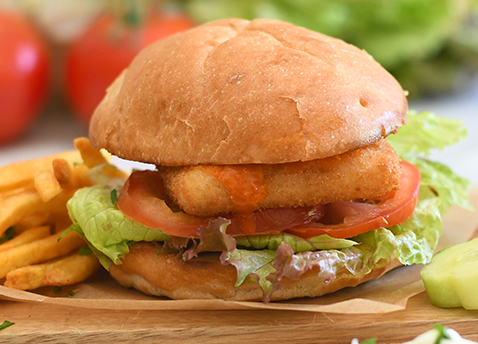 Ingredients
Gorton's seafood
Gorton's Fish Sandwich
4 Gorton's Sandwich Fillets
Lettuce
Sliced tomato
4 Sandwich buns
1 Tablespoon melted butter
1 teaspoon buffalo sauce
Cheese slices (if desired)
Mayonnaise (if desired)
Preparation
Step 1
Prepare 4 Gorton's sandwich fillets according to package directions.
Step 2
While sandwich fillets are cooking, prepare sauce.
Step 3
Sauce: Mix together 1 Tablespoon melted butter and 1 teaspoon buffalo sauce. Mix well.
Step 4
Evenly spread prepared sauce over cooked sandwich fillets.
Step 5
Assemble sandwiches with lettuce, tomato, cheese, and mayonnaise if desired and enjoy.
Featured product
Fish Sandwich
What's better than a crunchy breaded fish fillet? A crunchy breaded fish fillet on a bun. Our Fish Sandwich Fillets are the secret to a perfectly delicious fish sandwich.
Learn more