Brazilian Style Roasted Salmon
No need to get fancy to feel fancy. Keep things quick and tasty with Embracing Mamahood's easy homage to her Brazilian roots.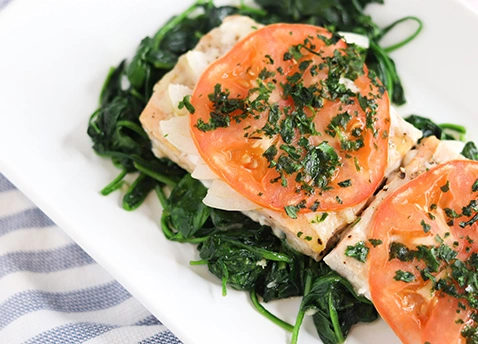 Ingredients
Gorton's seafood
Gorton's Seafood Natural Catch Grilled Salmon
3 Boxes of Gorton's Grilled Salmon (Thawed)
1 Large Tomato sliced
4 Cloves of Garlic, minced
1 Medium Onion
Salt and Pepper to Taste
Juice of 1 Lemon
Parsley and Cilantro Chopped
Extra Virgin Olive Oil
Preparation
Step 1
Preheat the oven to 425 degrees.
Step 2
Make sure the Salmon Fillets are completely defrosted. This is very important for accurate cooking time.
Step 3
Place your Gorton's Salmon Fillets in an oven-safe pan and drizzle it with some extra virgin olive oil.
Step 4
Season it with salt and pepper to taste.
Step 5
Place the sliced onions, the minced garlic, the tomato slices and the cilantro and parsley on top of each fillet.
Step 6
Squeeze the lemon juice on top of the salmon and toppings and roast it in the oven for about 15-17 mins until cooked to 165° or higher.
Featured product
Classic Grilled Salmon
100% wild-caught Salmon expertly seasoned with a classic blend of herbs and spices.


Learn more