Get Comfortable in the kitchen
How to Build The Perfect Grain Bowl
Grain bowls are healthy, nutritious, and totally delicious meals that are perfect for easy weeknight dinners. Simplify your week with a new staple meal or give last week's groceries a chance to shine— it's easy!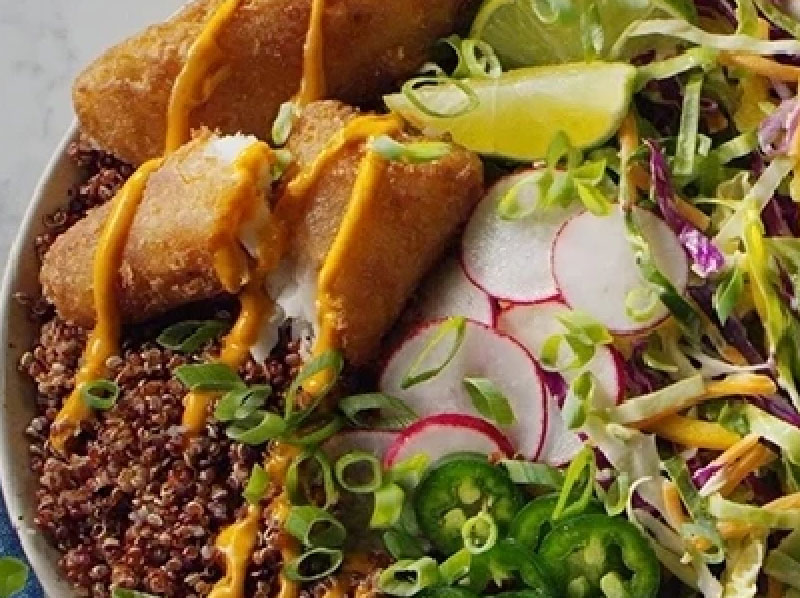 1. Choose your staples
Options like rice, quinoa, farro, or barley are easy to find at the grocery store, and are full of fiber, vitamins, and other important nutrients.
Once you've chosen your grain, you can start thinking about protein. Gorton's offers a variety of protein options that are as easy to make as they are to enjoy. From crunchy breaded to fillets of grilled salmon, Gorton's is a simple and affordable way to add filling fresh taste to any meal. Other popular protein options for grain bowls are chicken, steak, eggs, tofu, beans, or lentils.
2. Add some fun
This step is more important than just getting your greens in. Give your bowl a nice variety of flavors, textures, and colors to make sure it tastes as great as it is for you! Try tossing in last night's roasted sweet potatoes, raw carrot and bell peppers, salad greens, or anything else that catches your eye.
Now that your bowl is full of protein and fiber, it's time to have fun with flavor. Salad dressing or vinaigrettes from your fridge are a quick way to add a familiar taste when you're experimenting with new recipes. Other options are hot sauce, warm broth, soy sauce, sriracha ranch, or even yogurt.
Now that you understand the basics of making a delicious grain bowl, it's time to try it for yourself! Brainstorm with Gorton's Grocery Template, or get started now with whatever you have on hand to wrap up any day on a high note.
Featured product
Beer Battered
Fillets
Flaky, wild-caught whole white fish fillets.
Learn more