Air Fryer Orange Shrimp & Broccoli
Lex Eats knows that we don't give air fryers the credit they truly deserve. Gorton's Popcorn Shrimp keeps it light and crispy for a perfect orange shrimp and broccoli delight. It's easy to add more seafood to your diet when you can whip up a meal like this in no time.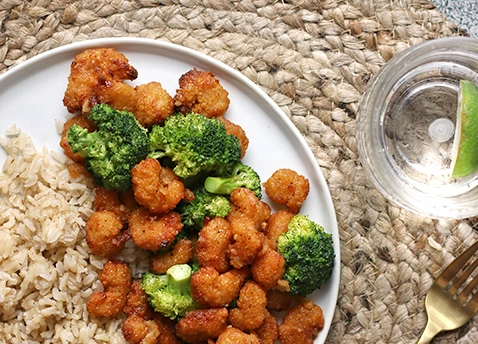 Ingredients
Gorton's seafood
Gorton's Popcorn Shrimp
1 box Gorton's Popcorn Shrimp
1 large or 2 small heads broccoli
1 tbsp olive oil
1/2 tsp salt
1/4 tsp pepper
1/3 cup orange juice
2 tbsp honey
2 tbsp soy sauce or coconut aminos
1 tsp minced garlic
1 tsp minced ginger
1 tsp sriracha or chili garlic sauce
1 tbsp cornstarch or arrowroot powder
Preparation
Step 1
Toss broccoli crowns with olive oil, salt and pepper. Add to air fryer basket and air fry for 6 minutes at 400°F.
Step 2
Remove broccoli from air fryer.
Step 3
Cook the half of the bag of the Popcorn Shrimp in your air fryer at 400°F for 8 – 10 minutes, until reaching an internal temperature of 165°F or higher.
Step 4
Make sauce by whisking together orange juice, honey, soy sauce, garlic, ginger, sriracha and cornstarch. Heat over low heat for 10-15 minutes, whisking occasionally until sauce thickens and becomes sticky.
Step 5
Toss shrimp in about half the sauce to start. Add broccoli and toss to combine.
Step 6
Serve with rice and the remaining sauce to dip or drizzle on top. Enjoy!
Featured product
Popcorn Shrimp
100% whole, tail-off Shrimp covered with a flavorful breading.


Learn more