Air Fryer Popcorn Shrimp with Mango and Avocado Salad
Looking for a new summer staple? Cooking with Manuela's got your back with this savory yet sweet salad featuring mango, avocado, and best of all, Popcorn Shrimp!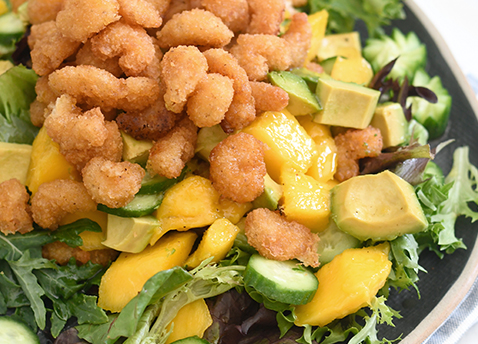 Ingredients
Gorton's seafood
Gorton's Popcorn Shrimp (14 oz. pack)
For the dressing:
1/2 lemon, juice and finely grated zest
2 tablespoons extra virgin olive oil
1 teaspoon honey
1/4 teaspoon salt
fresh ground pepper to taste
For the salad:
1 package Gorton's Popcorn Shrimp
4 cups mixed greens
1 mango, diced
1 avocado, diced
1 small cucumber, sliced
Preparation
Step 1
Cook the half of the bag of the Popcorn Shrimp in your air fryer at 400°F for 8 – 10 minutes, until reaching an internal temperature of 165°F or higher.
Step 2
In a small bowl, add the dressing ingredients and mix well.
Step 3
In a large bowl, combine the greens, mango, avocado and cucumber.
Step 4
Top with the shrimp when ready and drizzle with the dressing. Enjoy!
Featured product
Popcorn Shrimp
100% whole, tail-off Shrimp covered with a flavorful breading.
Learn more