Cucumber, Fennel and Watermelon Summer Salad with Gorton's Fish Fillets
Cooking with Manuela's delicious summer salad showcases the light taste of Gorton's flakey Fish Fillets with the cool and refreshing flavors of cucumber and watermelon, so you can enjoy a dinner you don't have to sweat over.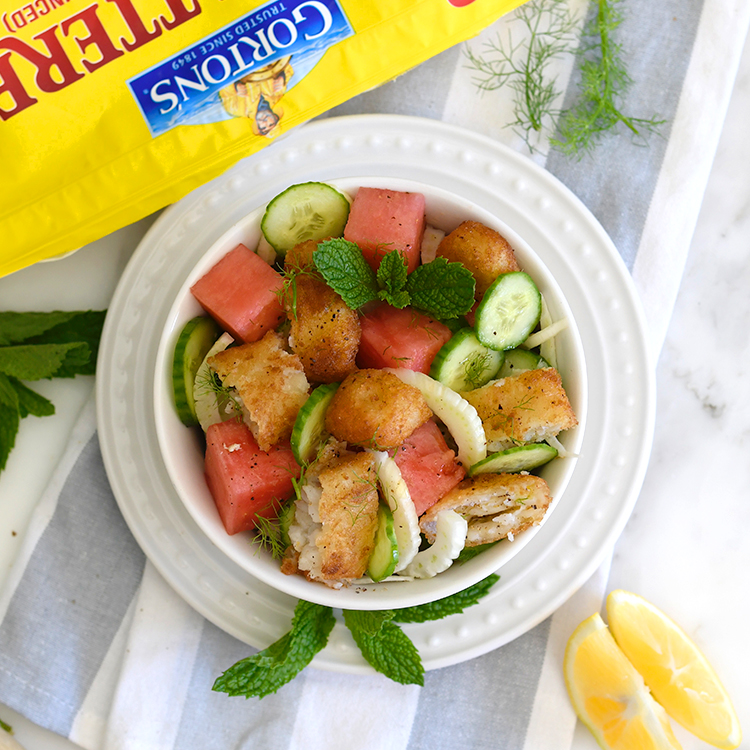 Ingredients
Gorton's seafood
Gorton's Beer Battered Fillets
2 cups watermelon, cubed
2 Persian cucumbers
1 fennel bulb, plus frond to decorate
4 Gorton's Beer Battered Fish Fillets
1 tablespoon lemon juice, freshly squeezed
2 tablespoons olive oil
1 teaspoon honey
Sea salt and freshly ground pepper to taste
Fresh mint (optional)
Preparation
FULLY COOK FISH TO AN INTERNAL TEMPERATURE OF 165°F OR HIGHER BEFORE SERVING.
Step 1
Cut the watermelon into one-inch cubes. Thinly slice the cucumber and fennel.
Step 2
Cook the fish fillets in your air fryer (or oven), being sure to follow the directions on the bag, until golden and crispy.
Step 3
In a small bowl, whisk the lemon juice with olive oil, honey, salt and pepper.
Step 4
In a bowl, toss the watermelon, cucumber, fennel with the vinaigrette.
Step 5
Top with the fish fillets cut into pieces, fennel fronds and fresh mint (if you like). Serve.
Featured product
Beer Battered Fillets
For a hearty, pub-style taste of seafood, there's no beating our Beer Battered Fish Fillets: flaky and coated in a crispy draft beer batter.
Learn more