Shrimp Kale Salad
Tired of wasting time and money on takeout? Whip up Taylor Golub's quick and simple Shrimp Kale Salad with savory ingredients like Comte cheese and fresh avocado, and lighten it up with an easy homemade dressing that you should brag about.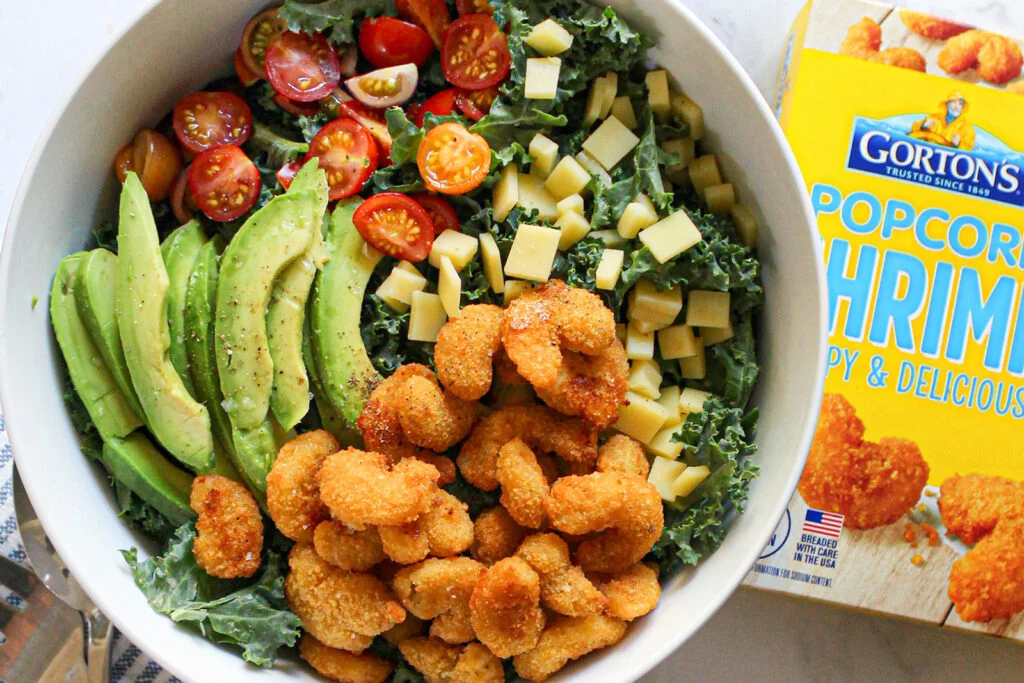 Ingredients
Gorton's seafood
Gorton's Popcorn Shrimp
1 bag of Gorton's Popcorn Shrimp
12 oz bag of chopped kale
1 cup of halved cherry tomatoes
1/4-1/2 cup of diced Comte cheese
1 sliced avocado
Salt & pepper, to taste
1 minced garlic clove
1 tbsp red wine vinegar
1 tsp dijon mustard
3 tbsp extra virgin olive oil
1/4 cup lemon juice
1 tsp Italian seasoning
Preparation
Step 1
Cook Popcorn Shrimp according to package instructions.
Step 2
Into a large salad bowl, add in the kale, cherry tomatoes, Comte cheese, avocado, and Popcorn Shrimp. Season salad with salt & pepper, to taste.
Step 3
To make the dressing, into a mason jar add in the garlic, red wine vinegar, dijon mustard, extra virgin olive oil, lemon juice, Italian seasoning, and salt & pepper, to taste. Give the dressing a big shake.
Step 4
Dress the salad and toss together. Serve up and enjoy!
Featured product
Popcorn Shrimp
100% whole, tail-off Shrimp covered with a flavorful breading.


Learn more