Salmon and Vegetable Salad with Green Goddess Dressing
Cooking time: 15 Minutes
Serves: 2
You can eat like a Goddess and feel like one too with this light and easy salmon salad from Recipe Runner.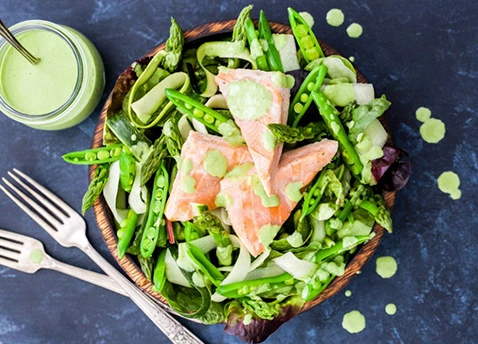 Ingredients
Gorton's seafood
1 box Gorton's Seafood Classic Grilled Salmon (2 fillets per box)
FOR SALMON AND GREEN VEGETABLE SALAD:
4 cups mixed baby greens
1 cup sugar snap peas, raw or blanched
1 cup asparagus, raw or blanched and cut into 2 inch pieces
1 zucchini peeled into ribbons using a vegetable peeler
1/2 cucumber, peeled into ribbons using a vegetable peeler
FOR GREEN GODDESS DRESSING:
1/2 cup plain non-fat Greek yogurt
1 green onion, sliced thin
1/4 cup packed basil leaves
1/4 cup flat leaf parsley
1/2 of a lemon, juiced
1 teaspoon dijon mustard
1 teaspoon honey
1/4 teaspoon granulated garlic
Kosher salt and fresh ground black pepper to taste
Preparation
Step 1
Place all of the ingredients for the dressing into a blender and blend until smooth. Taste for seasoning, then cover and refrigerate until ready to use. Makes approximately 1 cup of dressing.
Step 2
Bake the salmon according to package instructions.
Step 3
Fill two bowls with equal amounts of the mixed baby greens and vegetables.
Step 4
Top the salads with the salmon and desired amount of green goddess dressing.
Featured product
Classic Grilled Salmon
100% wild-caught Salmon expertly seasoned with a classic blend of herbs and spices.
View product