Fiesta Fish Stick Wrap
Cooking time: 18 minutes
Serves: 5 to 6
Add some fun to your next fiesta – ready, set, wrap!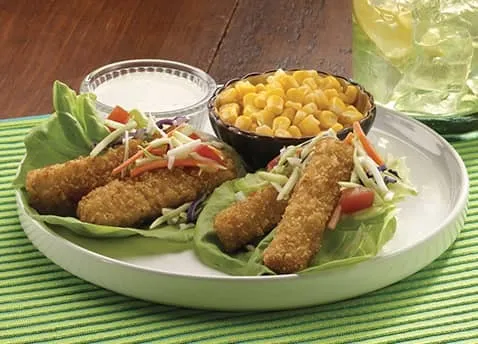 Ingredients
Gorton's seafood
Gorton's Crunchy Breaded Fish Sticks
30 Gorton's Crunchy Breaded Fish Sticks
1 head Boston (Bibb) lettuce leaves
1 cup carrots, shredded
1 cup sliced cucumbers
1 cup canned corn
1 cup small tomatoes
1 cup Ranch sauce
Preparation
Step 1
Prepare Gorton's Crunchy Fish Sticks according to package instructions.
Step 2
In the meantime, prepare toppings of corn, shredded carrots, sliced cucumbers, tomatoes, and a dipping sauce like ranch sauce.
Step 3
Place 1-3 cooked fish sticks (depending on size of lettuce leaf) in the middle of each lettuce leaf.
Step 4
Evenly distribute toppings among leaves, roll-up and serve immediately with dipping sauce.
Featured product
Crunchy Breaded Fish Sticks
100% real fish sticks in a crunchy golden breading.


Learn more