Gluten Free Grilled Tilapia Tacos
Cooking time: 20 minutes
Serves: 5 Tacos
You've had beef & chicken – but have you tried fish tacos? This fresh variation on a favorite meal is sure to please. Make them spicy, make them mild; crunchy, or soft – it's easy to add toppings so everyone's taste buds are happy.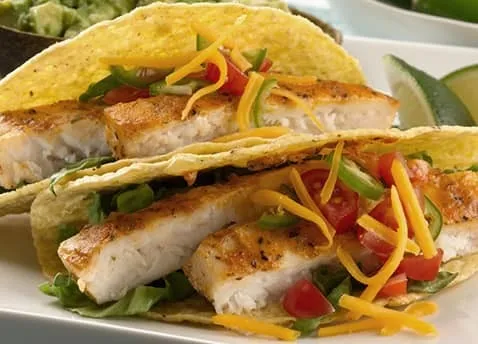 Ingredients
Gorton's seafood
Gorton's Grilled Signature Tilapia
1 Package (2 fillets) Gorton's Grilled Signature Tilapia
5 corn taco shells (gluten free)
1 cup shredded lettuce
2 tomatoes – chopped
1/2 cup shredded Mexican blend cheese
1 jalapeno – chopped (optional)
Preparation
Step 1
Prepare grilled fillets according to package directions.  Cool slightly. Cut each fillet lengthwise into 5 strips.
Step 2
Fill taco shells with lettuce, tomatoes, and jalapenos (if desired).   Place 2 fillet strips in each taco.  Top with shredded cheese.
Featured product
Signature Tilapia
Grilled tilapia seasoned with a classic blend of real herbs and spices.
Learn more