Potato Crunch Wrap
Cooking time: 23 minutes
Serves: 4
This delicious wrap is an awesome alternative to chicken or sliced deli meats. Enjoy for lunch, dinner or just a snack!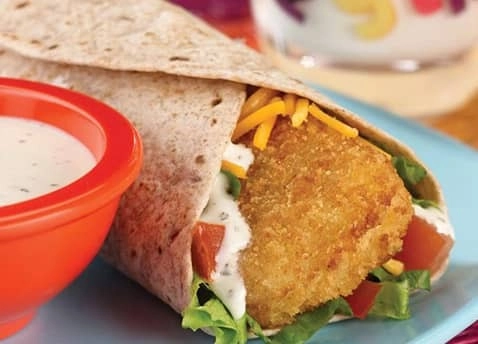 Ingredients
Gorton's seafood
Gorton's Potato Crunch Fillets
4 Gorton's Potato Crunch Fillets 4-10″ flour wraps
1/2 cup Ranch dressing
1 cup lettuce, shredded
1 cup cheddar cheese, shredded
1/2 cup diced tomatoes
Preparation
Step 1
Prepare Gorton's Potato Crunch Fillets according to package instructions.
Step 2
Place one cooked fillet in center of each wrap. Top with 2 Tbsp of Ranch dressing, lettuce, tomatoes and cheese.
Step 3
Roll wrap and serve immediately.
Featured product
Potato Crunch
Flaky, wild-caught whole white fillets in a crunchy, potato breading.


Learn more