Antoni Porowski's New Orleans Style Fish 'n Chips Dinner
It's fish sticks like you've never had them before! Get a taste of the Big Easy with Emmy Award-winning food expert Antoni Porowski's New Orleans Style Fish 'n Chips Dinner.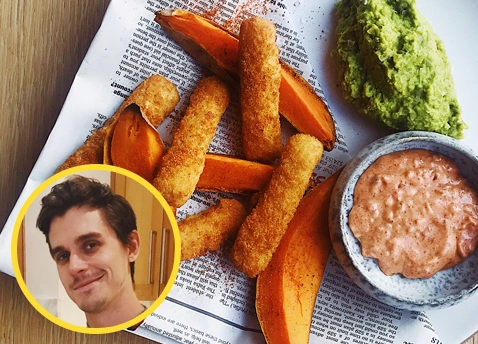 Ingredients
Gorton's seafood
Gorton's Crunchy Breaded Fish Sticks
Gorton's Crunchy Breaded Fish Sticks
2 sweet potatoes, cut into thin strips/wedges
Olive oil
2 teaspoon malt vinegar
2 tablespoon fresh parsley, finely chopped
1 teaspoon lemon juice
1 teaspoon Old Bay Seasoning
SMASHED PEAS:
1 bag frozen peas
2 tablespoons butter
1/4 cup Parmigiano, freshly grated
Fresh mint, small handful
HOMEMADE TARTAR SAUCE:
¾ cup mayo
2 teaspoons Dijon mustard
2 tablespoons cornichons (or dill relish)
Pinch of salt
¼ teaspoon ground black pepper
1 teaspoon lemon juice
REMOULADE:
1¼ cups mayo
¼ cup mustard (Creole or grainy)
2 teaspoons prepared horseradish
1 teaspoon pickle juice
1 teaspoon Tabasco
1 large clove garlic, minced
1 teaspoon lemon juice
Preparation
Step 1
Put oven rack in middle of oven and preheat oven to 450°F.
Step 2
Toss frozen fish sticks and sweet potatoes in a bowl with a bit of olive oil, malt vinegar, parsley, lemon juice, and Old Bay Seasoning. Arrange sweet potatoes on half of a metal baking pan and bake for 10 min.
Step 3
Add fish sticks to the other side of the pan and bake as instructed on Gorton's packaging. Keep your sticks and sweet potatoes separated to prevent clumping and ensure a nice golden brown.
Step 4
In a small saucepan, warm peas and butter. Once softened but still bright, add Parmigiano and a squeeze of fresh lemon. Blitz in food processor or blender until smooth and creamy. Season to taste with salt. Add fresh mint before serving.
Step 5
For the tartar sauce and remoulade, incorporate all ingredients in small bowls until smooth.
Featured product
Crunchy Breaded Fish Sticks
100% real fish sticks in a crunchy golden breading.
Learn more