Rhode Island Style Popcorn Shrimp
How do you make Popcorn Shrimp really "pop?" Take a cue from Made by Carli and drizzle a little lemon garlic aioli on top!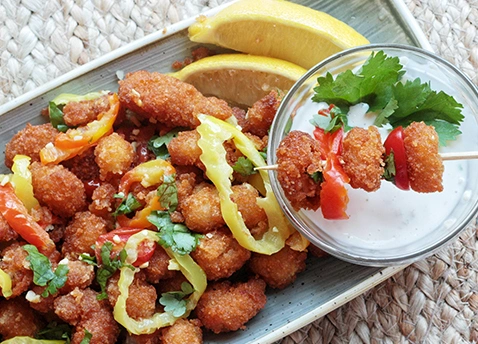 Ingredients
Gorton's seafood
Gorton's Popcorn Shrimp
1 package of Gorton's Popcorn Shrimp
2 tablespoons butter
1 teaspoon minced garlic cloves, finely chopped
1/2 cup banana peppers
15 cherry tomatoes, halved (reserve 5 for garnish)
Cilantro or parsley
1 lemon
FOR LEMON GARLIC AIOLI:
2 tablespoons mayo
1 tablespoon lemon juice
1/2 teaspoon minced garlic
1/2 teaspoon chopped cilantro
1 teaspoon chopped capers, optional
Preparation
Step 1
Prepare Gorton's Popcorn Shrimp according to package directions. I used the frying method to really key into the "fried calamari taste". Remove Shrimp with a slotted spoon or tongs, and place on paper towels to drain oil. Once drained, place on platter to serve.
Step 2
In a small pan, on medium heat, add butter and saute the minced garlic until lightly browned. Add banana peppers and tomatoes reserving a few for garnish. Toss the peppers and tomatoes in the garlic butter until well coated.
Step 3
Drizzle mixture over Popcorn Shrimp and lightly toss.
Step 4
Sprinkle the shrimp with chopped cilantro and fresh squeezed lemon juice.
Step 5
Aioli: In a small bowl, combine the mayo, garlic, lemon juice and chopped cilantro well until creamy. If desired add chopped capers.
Featured product
Popcorn Shrimp
100% whole, tail-off Shrimp covered with a flavorful breading.


Learn more