Baked Fish and Chips
Thank Hungry Hayley for elevating fish and chips from comfort food to a wholesome habit. Eager to find out how? I yam! I yam!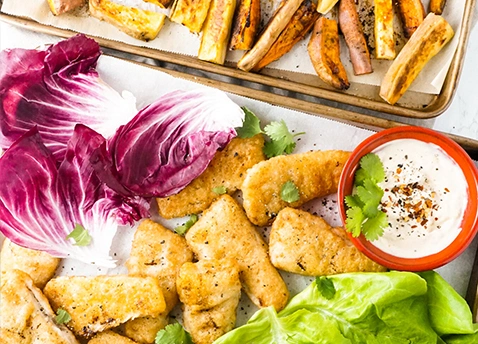 Ingredients
Gorton's seafood
Gorton's Beer-Battered Fish Fillets
1 Package of Gorton's Beer-Battered Fish Fillets
2-3 Medium Sweet Potatoes and Yams
2-3 Tablespoons Extra Virgin Olive Oil
1 Teaspoon Sweet Paprika
Salt and Pepper, to taste
1 Head Butter Lettuce
1 Small Head Radicchio
For the Aioli:
¼ Cup Mayonnaise
2 Tablespoons Dijon Mustard
1 Teaspoon Apple Cider Vinegar
1 Small Garlic Clove, grated or finely minced
1 Pinch Crushed Red Pepper Flakes
Salt and Pepper, to taste
Preparation
Step 1
Preheat the oven to 425°F and line two baking sheets with parchment paper.
Step 2
Wash, scrub and dry the sweet potatoes and yams. Slice lengthwise into wedges about 3 inches long and ½-1 inch thick. Toss them in 2-3 tablespoons of olive oil to coat. Season with sweet paprika, salt, and pepper and transfer to one parchment-lined baking sheet. Slide this into the oven and set a timer for 25 minutes.
Step 3
While these bake, transfer the 10 Gorton's Beer-Battered 100% Whole Fillets onto the other baking sheet in an even layer. After 6 minutes have gone by on the sweet potato timer (when 19 minutes remain) slide the fish fillets into the oven. Flip these over after 10 minutes, and cook in the oven for 17-19 minutes total, until reaching an internal temperature of 165°F or higher
Step 4
Prepare the aioli. Whisk together the mayo and dijon mustard, then add the apple cider vinegar and grated garlic and stir again until smooth. Season with salt, pepper, and crushed red pepper flakes.
Step 5
Let the sweet potatoes and yams and fish fillets cool slightly before serving alongside butter lettuce, radicchio, and aioli. Store leftovers in an airtight container in the fridge for up to 5 days. Enjoy!
Featured product
Beer Battered Fillets
Flaky, wild-caught whole white fish fillets.


Learn more