Hot Crab Dip
Cooking time: 22 minutes
Serves: 6-8
This Maryland-inspired dip is the perfect hors d'oeuvre for your next gathering, any season.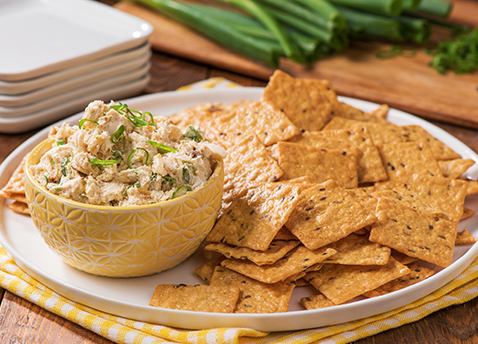 Ingredients
Gorton's seafood
Gorton's Crab Cakes
6 oz. package cooked crab cakes (2 x 3 oz. crab cakes)
8 oz. block cream cheese
1 1/2 Tbsp chopped yellow onion or 1 Tbsp chopped jalapeño pepper
1 Tbsp chopped scallion
Preparation
Step 1
Prepare Gorton's Crab Cakes according to package instructions.
Step 2
Place all ingredients in microwave safe bowl.
Step 3
Cook on high for 1-1 1/2 minutes. Stir thoroughly. Serve with crackers or carrot sticks.
Featured product
Crab Cakes
Real crabmeat with diced onion, butter, & savory seasonings.
Learn more