Fish Stick Po' Boy
Looking for a Mardi Gras-inspired meal the whole family can enjoy? The first step of Sandy Eats Blog's simple Po' Boy recipe is to take your parade to the frozen aisle! Grab some Gorton's Fish Sticks, and prepare your French roll with classic toppings like tartar sauce, lettuce, and tomato, plus some Cajun seasoning if you're in the mood for a little spice.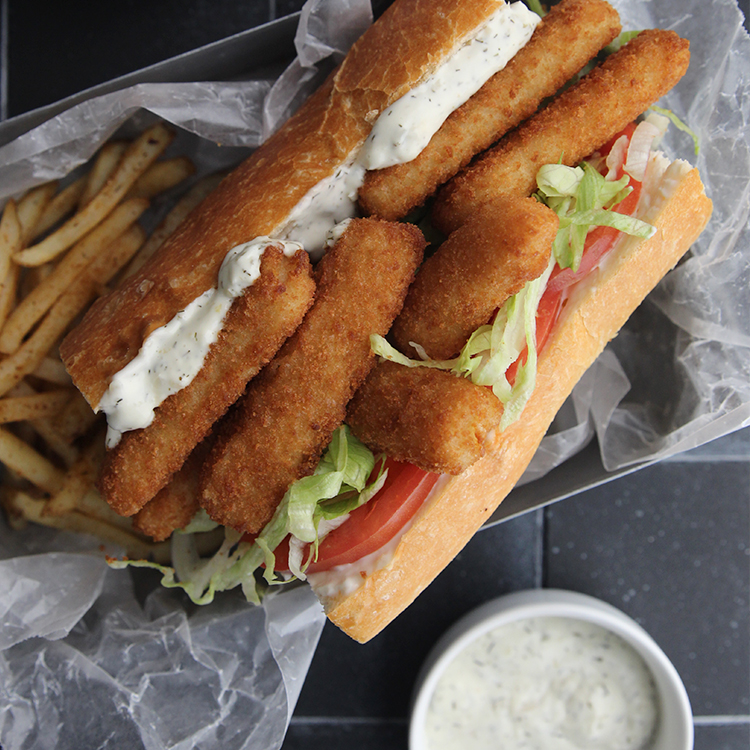 Ingredients
Gorton's seafood
Gorton's Crunchy Breaded Fish Sticks
2 servings of Gorton's Fish Sticks
1 French bread roll
Shredded lettuce
Sliced tomato
Tartar sauce
Salt & pepper to taste
Cajun spice, optional
Preparation
Step 1
Prepare Fish Sticks according to package directions.
Step 2
Slice French bread roll horizontally and spread tartar sauce on both sides.
Step 3
Add shredded lettuce to the bottom side of the bread roll.
Step 4
Season tomato slices with salt and pepper and place on top of lettuce.
Optional: toss cooked Fish Sticks with Cajun spice for a kick.
Add fish sticks to the roll and top with more tartar sauce if desired.
Fully cook fish to an internal temperature of 165°f or higher before serving.
Featured product
Crunchy Breaded Fish Sticks
You can't beat the classics. Crunchy Breaded Fish Sticks are perfectly crispy, making them the perfect intro for seafood-reluctant family members. Plus, they can be ready in just 2 minutes! They're also perfectly crunchy in the air fryer.
Learn more