Caesar Salad Crispy Fish Wrap
Cooking time: 22 minutes
Serves: 4
Caesar salad, meet fish. Add Gorton's Parmesan Crusted Fish Fillets to your typical Caesar salad and roll them together into a whole-wheat wrap. This crunchy wrap will have you satisfied all day.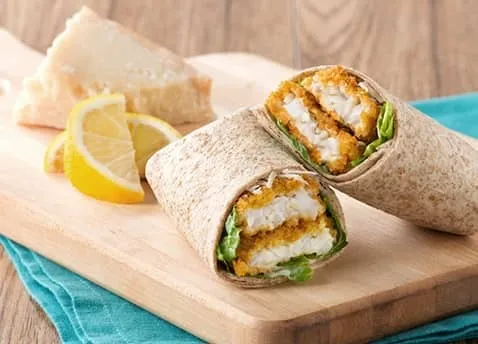 Ingredients
Gorton's seafood
Gorton's Parmesan Crusted Fillets
8 Gorton's Parmesan Crusted Fillets
5 cups chopped Romaine lettuce
1/3 cup light Caesar dressing
4 large whole-wheat tortillas
1/4 cup shredded Parmesan cheese
4 lemon wedges
Disclaimer: This recipe was originally made with a discontinued product and has since been edited.
Preparation
Step 1
Prepare Gorton's Parmesan Crusted Fillets according to package directions.
Step 2
Toss lettuce with dressing. Place 1 tortilla on a clean work surface. Arrange some of the salad on center of a tortilla; leave a small border on each end.
Step 3
Place two fillets on top. Sprinkle with 1 tbsp Parmesan. Fold the bottom of the tortilla over the filling, then fold in the sides and roll tightly. Slice in half on an angle. Repeat with remaining ingredients. Serve with lemon wedges.
Notes: For a lightened up salad dressing that packs some extra protein, use Caesar dressing made with Greek yogurt.
Featured product
Parmesan Crusted Fish Fillets
Fact: Everything's better with cheese.


Learn more