Grilled Gluten Free Flatbread
Cooking time: 30 minutes
Serves: 2 to 4
Healthy and 100% Gluten Free, this is a safe, easy and delicious meal for the whole family, works well with any of Gorton's gluten free Grilled Fish.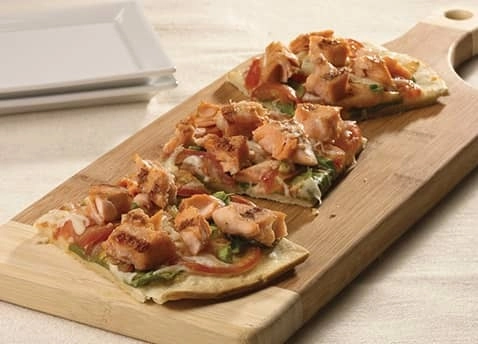 Ingredients
Gorton's seafood
Gorton's Classic Grilled Salmon Fillets
2 Gorton's Classic Grilled Salmon Fillets
Gluten Free Pizza Crust Mix or Gluten Free Ready Made Pizza Crust
2 large tomatoes – thinly sliced and/or Gluten Free Tomato Sauce
Toppings: sliced onions, sliced mushrooms, shredded cheese, sliced mozzarella cheese, scallions, sliced red/green peppers, baby spinach, basil or any toppings of your choice!
Preparation
Step 1
Prepare Gorton's Classic Grilled Salmon Fillets according to package directions. Cool slightly and break into chunks with a fork.
Step 2
While fillets are cooking, prepare Pizza Crust Mix for 1 pizza as directed on package.
Step 3
When pizza crust is ready, coat with a layer of sliced tomatoes or tomato sauce.
Step 4
Cover with desired toppings.
Step 5
Sprinkle fish chunks over toppings. Heat at 350°F for 10 minutes or until cheese melts and toppings are heated. Slice and serve.
Featured product
Classic Grilled Salmon
100% wild-caught Salmon expertly seasoned with a classic blend of herbs and spices.


Learn more