Warm Roasted Vegetable and Salmon Salad
Cooking time: 20 minutes
Serves: 2
This dish is a fresh and clean summertime meal highlighted by the tang of mustard and fresh lemon.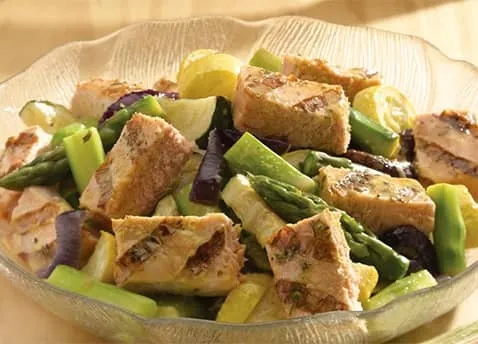 Ingredients
Gorton's seafood
Gorton's Flame Grilled Salmon Fillets
Disclaimer: This recipe was originally made with a discontinued product and has since been edited.
2 Gorton's Flame Grilled Salmon Fillets
2 Tbsp honey mustard
1 Tbsp apple cider vinegar
1 tsp lemon juice
1/4 tsp garlic powder
1/4 tsp onion powder
1/4 tsp sage, dried
1/4 tsp salt
1/4 tsp pepper
1 cup asparagus, chopped
1 cup yellow squash, sliced
1 cup zucchini, sliced
1/2 cup red onion, sliced
2 Tbsp vegetable or olive oil
Salt and pepper, to taste
Preparation
Step 1
Preheat oven to 400°F, combine mustard, vinegar, lemon juice, garlic powder, onion powder, sage, salt and pepper and set aside.
Step 2
Toss asparagus, squash, zucchini and red onions with oil, sprinkle with salt and pepper. Place in roasting pan with Gorton's Flame Grilled Salmon Fillets. Bake according to package instructions, ensuring the salmon reaches an internal temperature of 165 °F. Combine with dressing and serve immediately.
Featured product
Classic Grilled Salmon
100% wild-caught Salmon expertly seasoned with a classic blend of herbs and spices.


Learn more