Salmon Frittata
Cooking time: 15 minutes
Serves: 6
This makes a great dinner OR breakfast and can be altered to fit anyone's individual preferences. Add your favorite fillings to the Salmon and egg base. Gorton's Recipe Renovation Contest 2nd place winner, submitted by Joni H. of Rocklin, CA.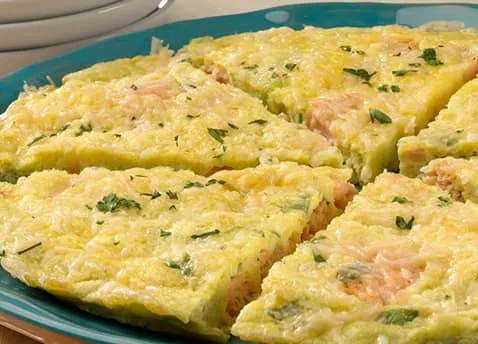 Ingredients
Gorton's seafood
Gorton's Classic Grilled Salmon Fillets
1 box Gorton's Classic Grilled Salmon Fillets
2 green onions, chopped
3 tablespoons olive oil or butter
6 eggs, beaten
salt & pepper to taste
1/2 teaspoon dried tarragon
2 tablespoons chopped fresh parsley
1/3 cup freshly shredded Parmesan cheese
Preparation
Step 1
Remove fillets from box and microwave for 1 minute to soften slightly. Cut into bite-sized pieces.
Step 2
In a large, oven-proof skillet over medium high heat, saute salmon pieces and onions in olive oil until salmon is opaque.
Step 3
Pour in eggs, seasonings, and herbs. Cook until edges are dry, slipping spatula under frittata occasionally to allow uncook egg mixture to flow beneath.
Step 4
While set but still glossy, sprinkle with Parmesan and slip under broiler to brown top slightly. This makes a great dinner OR breakfast.
Featured product
Classic Grilled Salmon
100% wild-caught Salmon expertly seasoned with a classic blend of herbs and spices.


Learn more