Air Fried Shrimp with Aioli Sauce
If you haven't tried our Air Fried Butterfly Shrimp yet, this recipe may persuade you! Cooking with Manuela is about to blow your mind with this insanely delicious and simple meal.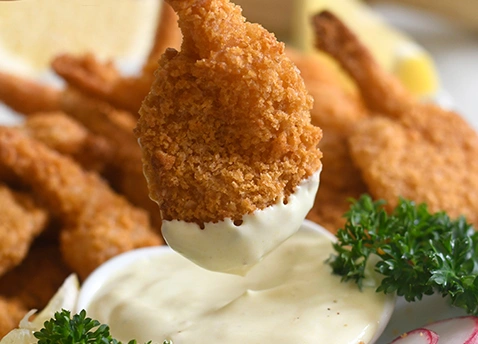 Ingredients
Gorton's seafood
Gorton's Air Fried Shrimp
1 package Gorton's Air Fried Shrimp
1 garlic clove, pressed or minced
2 tablespoons lemon juice
1/2 cup mayonnaise
1/2 teaspoon Dijon mustard
Freshly ground pepper, to taste
Preparation
Step 1
Cook the shrimp in the oven or air fryer as directed on the package
Step 2
Mix all of the remaining ingredients together for the sauce. Serve with shrimp.
Featured product
Air Fried Shrimp
Air fried for light & crispy breading on the outside and tender shrimp on the inside


Learn more