Buffalo Shrimp Dip
Cooking time: 10 minutes
Serves: 8
Buffalo spice doesn't just belong with wings. This Taste and See recipe proves it's the soulmate our buttery Shrimp Scampi has been waiting for.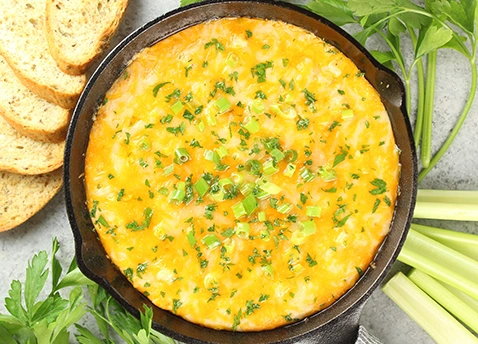 Ingredients
Gorton's seafood
Gorton's Garlic Butter Shrimp Scampi
21 ounces Gorton's Garlic Butter Shrimp Scampi (Two 10.5 ounce packages)
4 tablespoons hot sauce
¼ cup finely shredded Mexican blend cheese – plus more for garnish
3 green onions finely chopped (reserve 1 tablespoon for garnish)
4 ounces cream cheese, softened
Preparation
Step 1
Preheat oven to 400°.
Step 2
Saute Gorton's Garlic Butter Shrimp Scampi in a 10-inch oven-proof pan on medium high for 6-8 minutes.
Step 3
Reduce heat to low, and use a slotted spoon to remove the shrimp from the sauce. Place on a cutting board and rough chop into ½-inch pieces.
Step 4
Turn heat up to medium, then add cream cheese, cheddar cheese, hot sauce, onions. Stir until well combined.
Step 5
Fold in the chopped shrimp. Sprinkle on a little more shredded cheese and bake for 2-3 minutes or until cheese has melted.
Step 6
Garnish with more chopped green onions and serve with crostini, tortilla chips, or celery sticks – or use cucumber slices for a low-carb option.
Featured product
Garlic Butter Shrimp Scampi
Large tail-off Shrimp in a creamy garlic butter sauce.


Learn more