Sweet & Savory Shrimp Crostini
Jumbo Butterfly Shrimp on crostini means jumbo flavor, jumbo-sized bites, and a jumbo hit for any party (recipe from Sizzling Eats).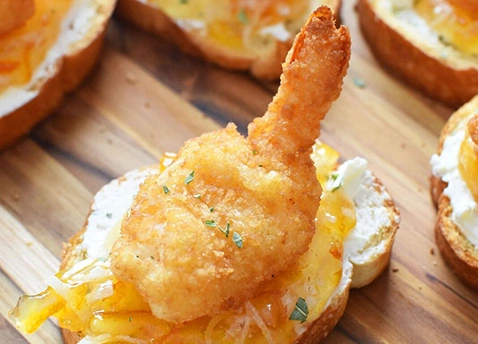 Ingredients
Gorton's seafood
Gorton's Butterfly Shrimp
1 package Gorton's Butterfly Shrimp, baked according to package
4 ounces cream cheese
Sliced crostini rounds
1/2 cup orange marmalade
1/4 cup shredded coconut
2 tablespoons melted butter
1 teaspoon garlic powder
1 teaspoon Italian herbs & spices
Preparation
Step 1
Heat oven to bake shrimp according to package instructions.
Step 2
Mix butter with garlic powder and herbs and brush crostini rounds.
Step 3
Toast alongside shrimp for 3-5 mins.
Step 4
Remove crostini from oven and smear with cream cheese.
Step 5
Once shrimp are done, set aside. In a small bowl, mix the coconut and marmalade together.
Step 6
Smear a dollop on the cream cheese-covered crostini.
Step 7
Top with shrimp & enjoy!
Featured product
Butterfly Shrimp
Shrimp that packs a punch.


Learn more